Project
Innovative Access Project: Exploring Faith in a Safe Space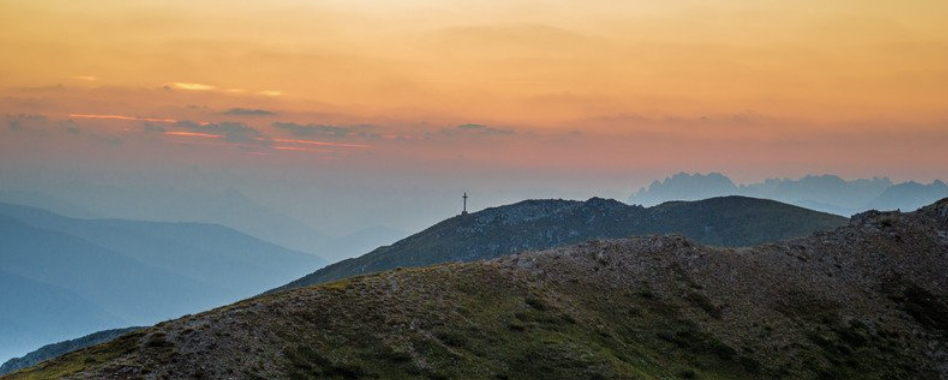 Accessibility Challenge
At a crucial stage in life, college students are often questioning/reevaluating many aspects of their life, religion included. They may want to explore alternatives or feel compelled to discover more spiritual meaning. Alternatively, visiting service or a religious institution can feel very intimidating. They may experience feelings of alienation or pressure to join the community. They may not know anyone in the community to help introduce them and may feel hesitant to do it alone. They may be afraid of disrespecting the community out of ignorance.
Students may not know where to go or who to go to in order to explore religion and spiritual options. This is why Spirit Guide was created.
Meet Frankie, our faith seeker.
Inclusion Principles: How is Frankie included in the Spirit Guide design?
Promote religious access.
Increase faith-based comfortability in learning about and attending religious services or events.
Develop equitable faith-based community options for those seeking to find a religious community.
Increase educational access to a wider faith-based network within the community.
Understand that religion should be a free, independent choice, formed through experiences in a low-pressure environment.
Create exposure to different cultures and communities.
Brand of inclusion: Create a welcome culture of making visitors feel safe, welcomed, and not pressured while exploring new ideologies, and increase accessibility to outside cultures and religious or spiritual communities.
Goals: What does Frankie need to have a successful experience?
Direct service for connecting with faith communities, introduction
Higher comfort of exploring a variety of religious and spiritual belief systems
Information on which faith communities are compatible with their journey
An inclusive, low-pressure environment to explore independently
Increase the number of visitors to religious services (indirect goal for faith community)
Increase of participating institutions (indirect goal for faith community)
Meet Annita, our Spirit Guide
Annita was created to show the experience process as a guide for Frankie and to help them meet their needs and goals within the faith-seeking journey.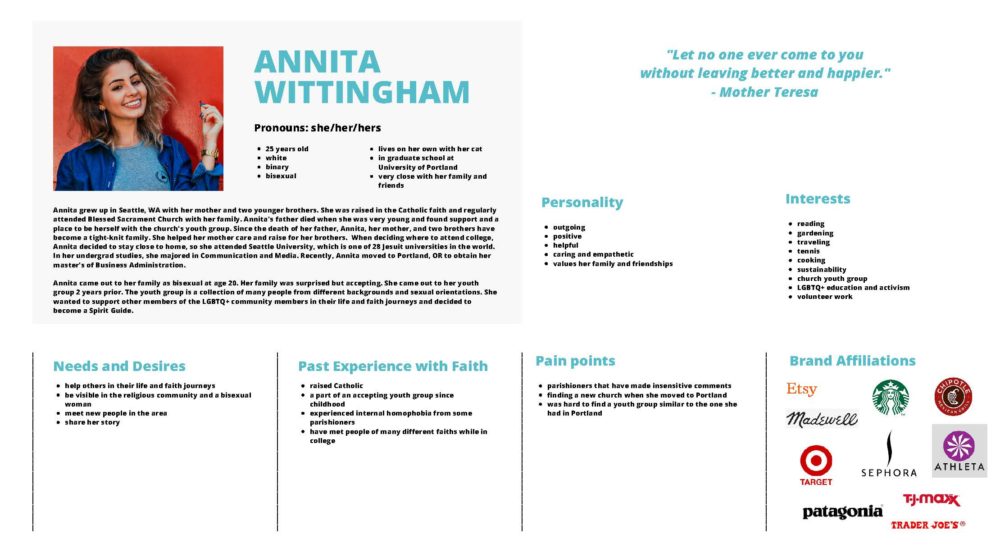 Logistics: Spirit Guide proposed rollout
Creating the network (1 month)

Create a brand
Set up a website. Pages:

Register a place of worship or a buddy
View participating places of worship and buddies
Plan a Visit (Guests)
Religion overviews and what to expect while visiting a place of worship.
University clubs. View registered groups. "Form a group at your university!"

Create social media accounts (Instagram, Twitter, TikTok).
Create instructions for how places of worship should interact with guests depending on the guests' preference. [low-pressure, discreet]

Outreach to places of worship (2 months)

Compile a list of places of worship in the Portland area
Create a standard invitation letter to join the organization
Send invitations / connect with worship leaders.
Adding participating organizations to the website. [accessible to college students]
Send a Welcome Kit (a sign, badges, and information pamphlets) and meet with all participating organizations

Outreach to college students (2 months, August/beginning of fall semester)

Contacting campus religious organizations to market the network. Encourage individuals to sign up as buddies (willing to take a guest to their place of worship) [removes lack of connections barrier]
Contacting universities to set up a booth at welcome weeks
Distribute flyers on campuses
Launch social media marketing campaign

Creation of on-campus groups: Building Community (4 months, beginning of Spring semester)

Empower college students to start interfaith groups at their universities
Turn the focus from visiting places of worship to forming interfaith communities
Total time estimate: Approximately one year to fully get off the ground.
Process Work
Below is the research team's process work beginning from the first critique to the final critique. Before the first critique, the design team struggled to identify what accissebility issue they wanted to solve. At first, the team discussed many topics revolving around education, politics, healthcare, financials, and more, but ultimately each team member had personally experienced struggles around finding places of worship as well as religions that best revolve around them and their needs. This spurred the idea of Spirit Guide, which the team based in Portland, Oregon specifically because Portland hosts places of worship for every religion imaginable.
In the first critique, the research team identified their research question, main persona – Frankie – and initial experience map for Frankie.
After receiving positive feedback, the team knew they were heading in the right direction, so for the second critique the team focused on continuing their progress: editing their main persona, experience map, research question, and adding an initial user flow.
For the third critique, the main focus was on the product itself, what the user flow looks like, and the proposed design ideas (within the user flow featuring example text on the right) for Spirit Guide.
Critique three set the team up to begin their design prototypes, and as Kiele and Karly worked on the prototypes, Karly created the storyboards, Kiele completed the site map, Shavon created the text, Jessica created the style guide and helped implement it into the design prototypes, and Shavon and Jessica began their work on the.
During the time they spent working on outputs for critique four, the team completed their outputs in advance so that they could practice dogfooding and adversarial testing of the product thus far. Testing their sitemap, user flow, and prototypes provided helpful as it helped the team focus less on the functionality of their designs and product and more on the emotional aspect of their designs. Initially, the team's goal was to create as many mockups as possible, but after their testing they realized how they were designing the pages did not ultimately make the user feel comfortable, heard and calm during their experience with Spirit Guide. Through developing a style guide, and rearranging the layout of design prototypes, the team created a successful, emotion-based product solution.
The initial sitemap was a cross between a sitemap and a user flow, and after careful simplification based Frankie's user flow, the site map was re-created as seen in Critique 5. Critique 5 contained the research team's updated sitemap (Kiele), a list of pages they deemed necessary to mockup (Kiele) , three designed prototypes of those mockups (Kiele created the designs and Shavon helped with the text), an updated storyboard (Karly), and the initial writeup/storyboard video for Frankie (Karly, Shavon, and Jessica).
Critique 1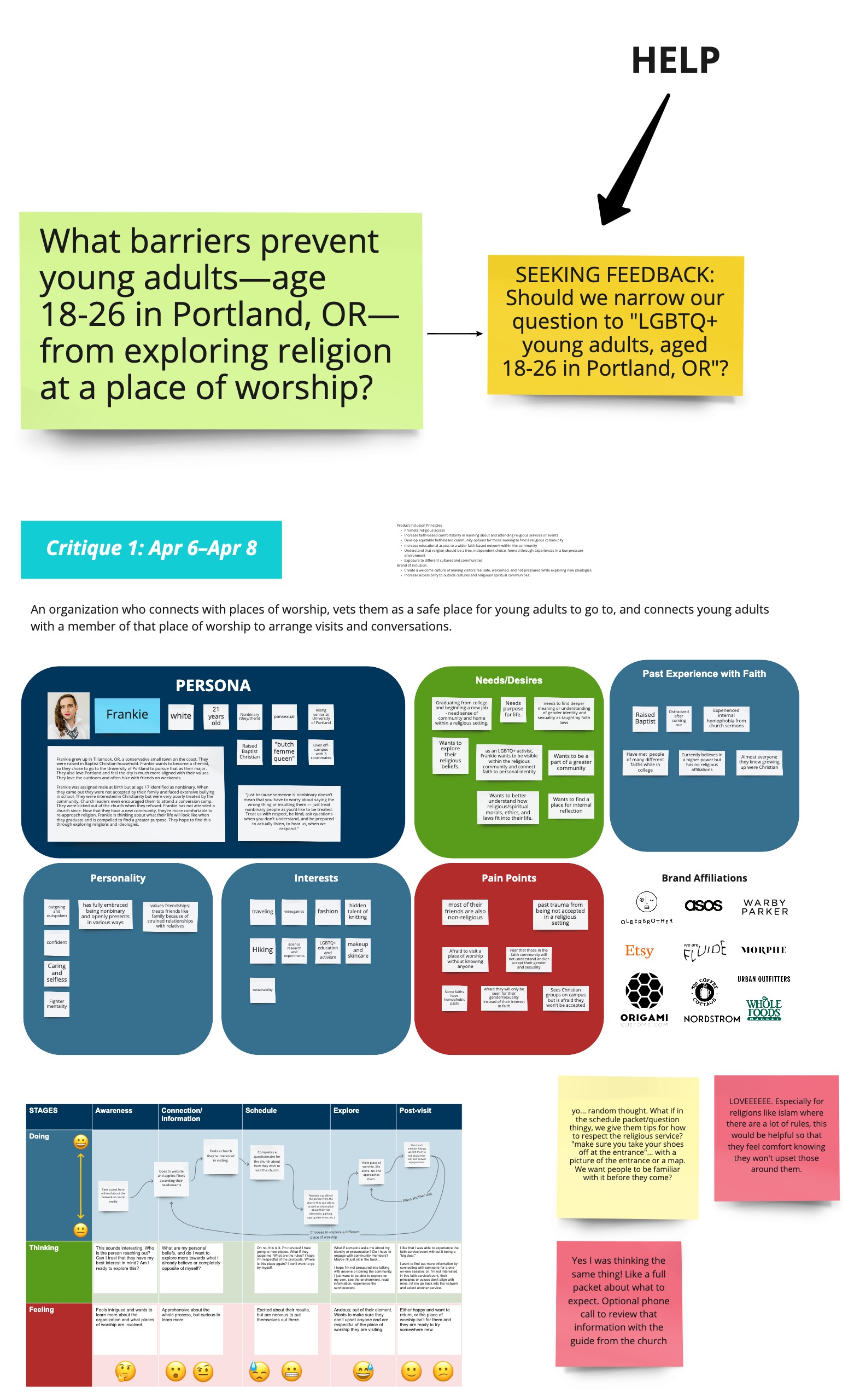 Critique 2

Critique 3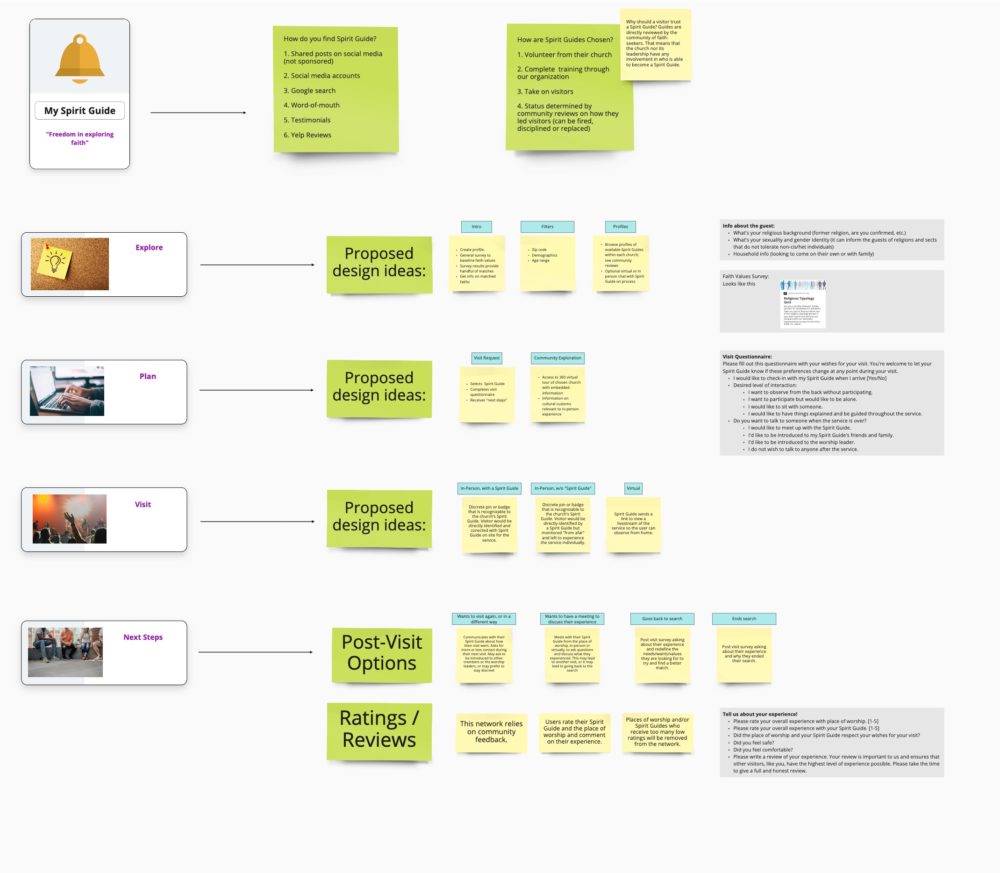 Critique 4
Critique 5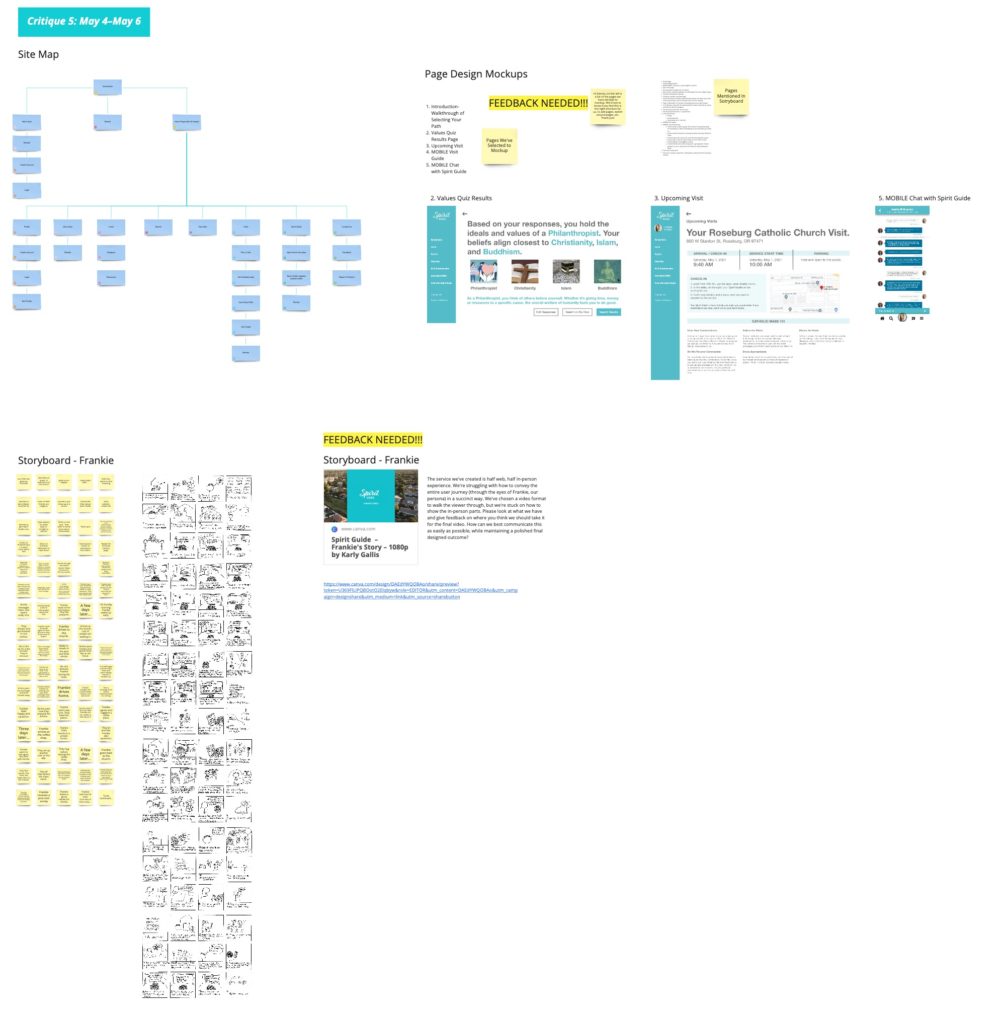 Final Project
Below are the final style guide, storyboard, experience map, site map, design prototypes and project write up.
Style Board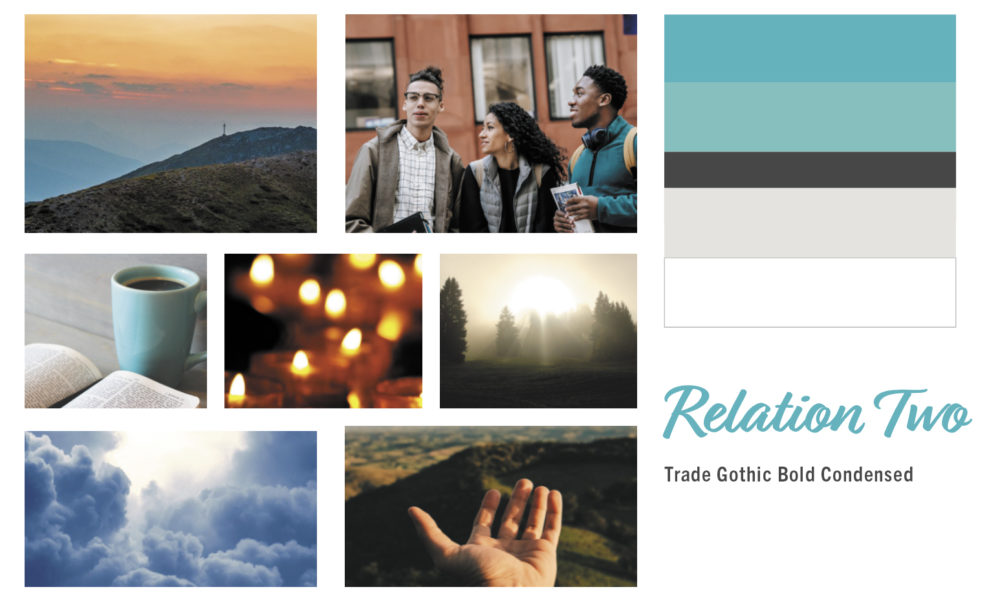 Storyboard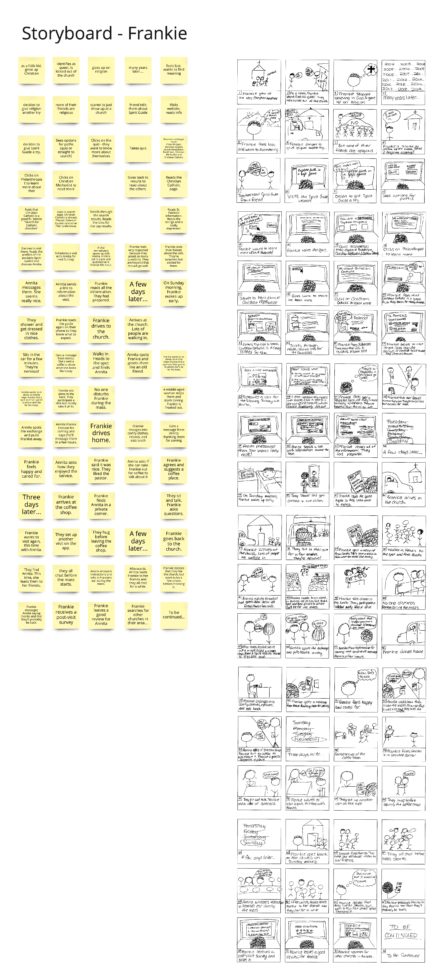 Experience Map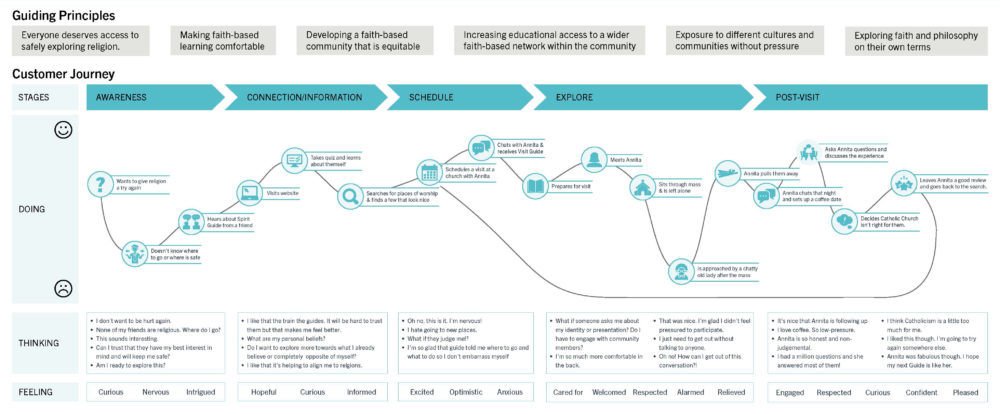 Site map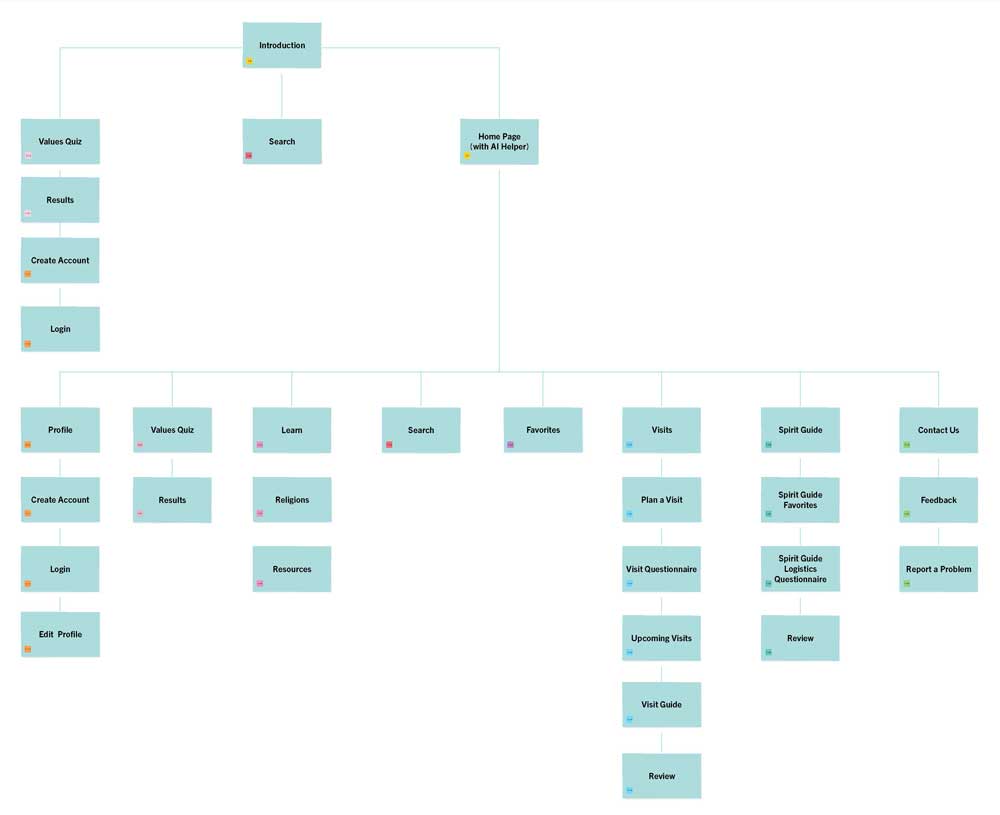 Design Prototypes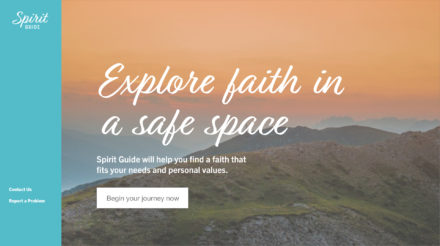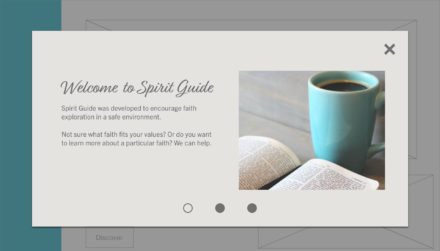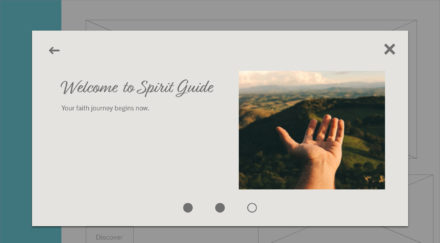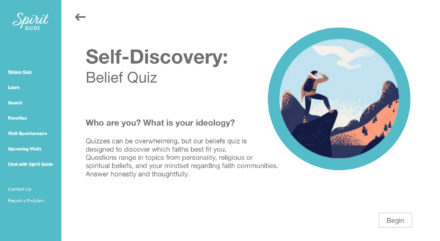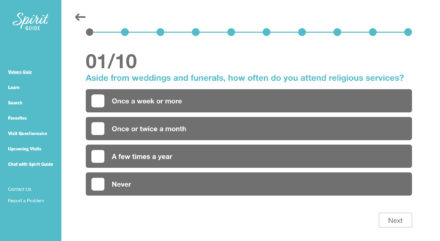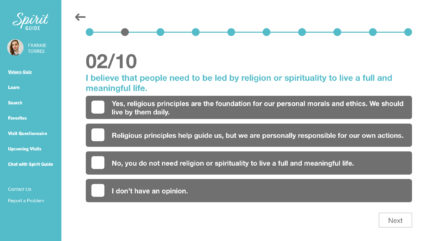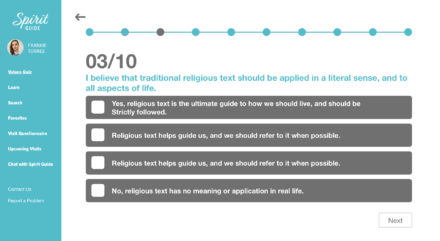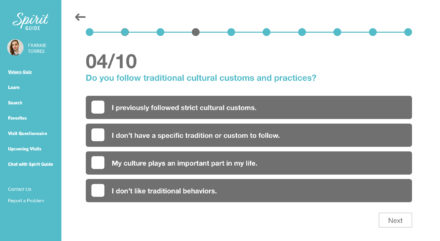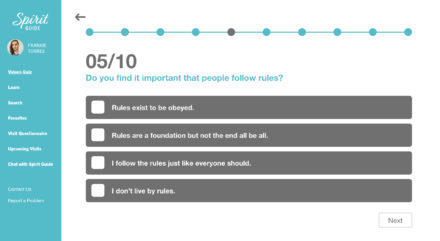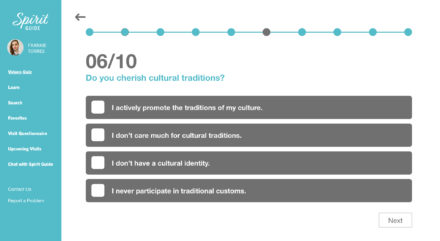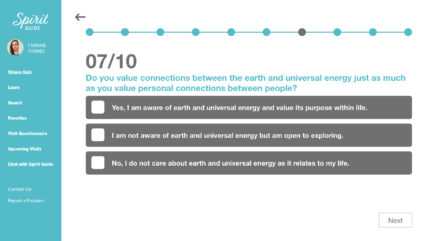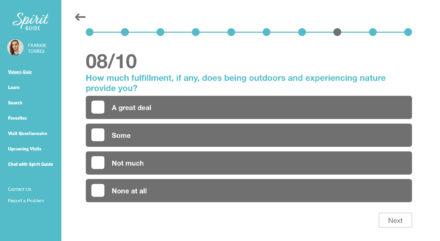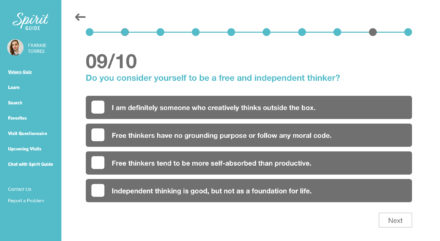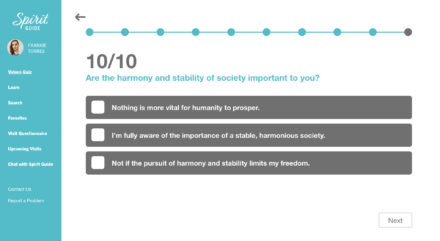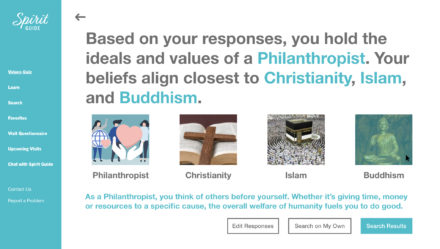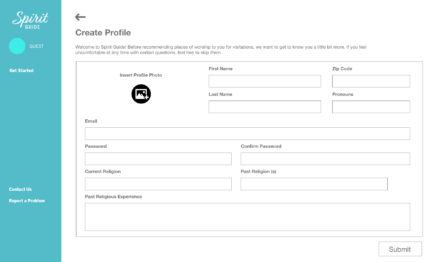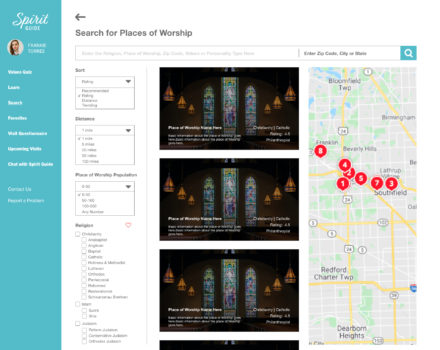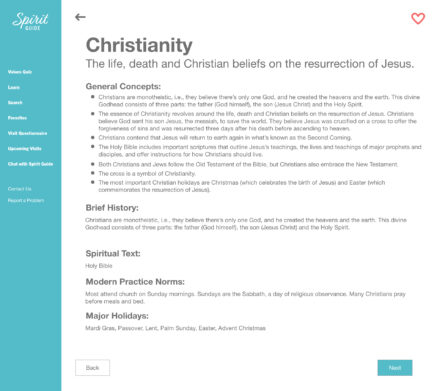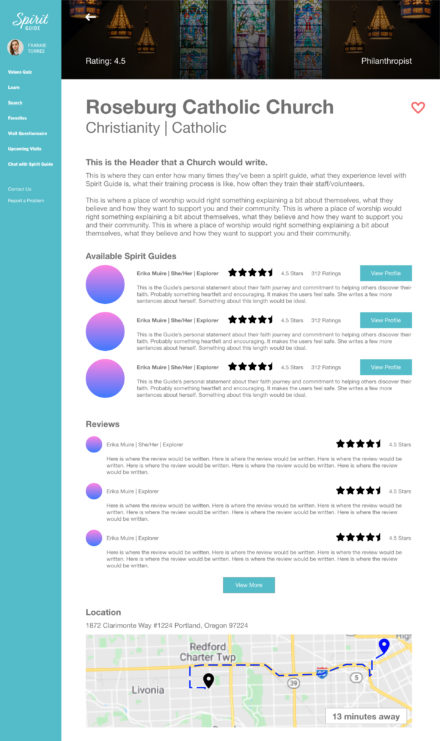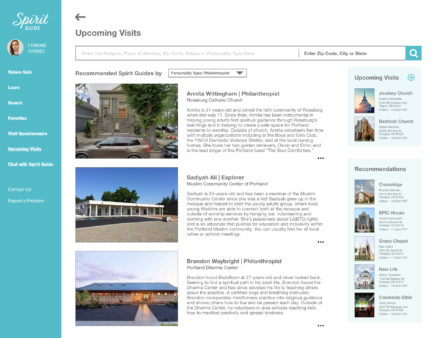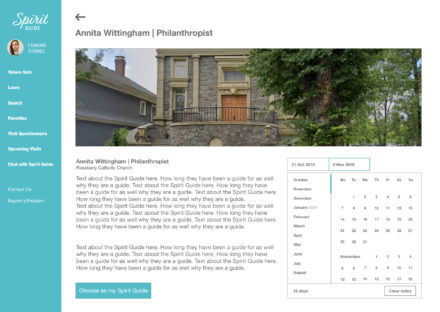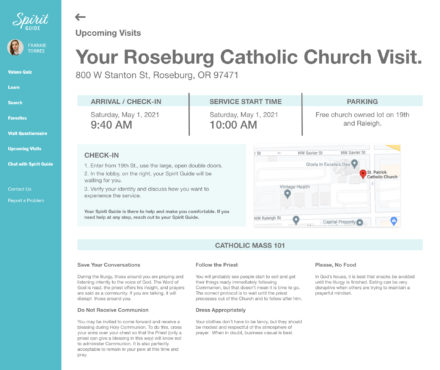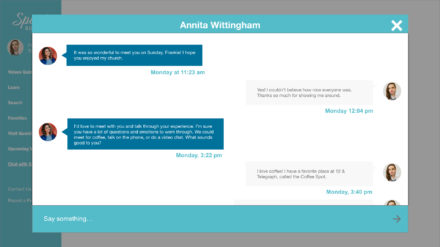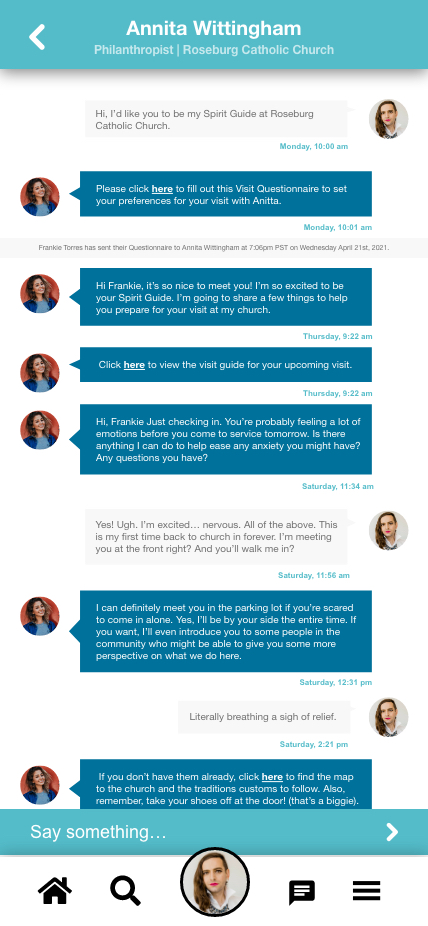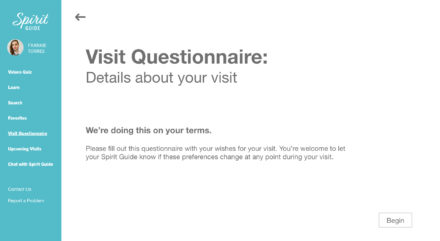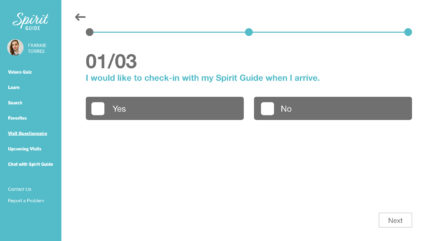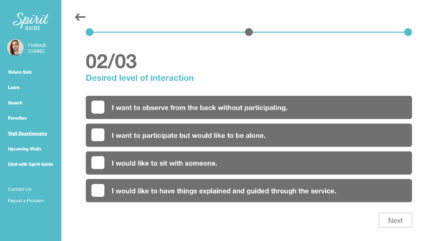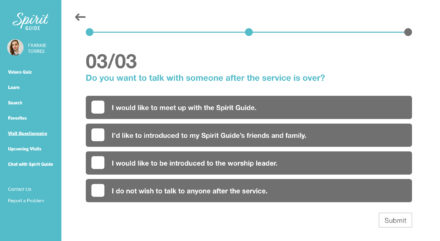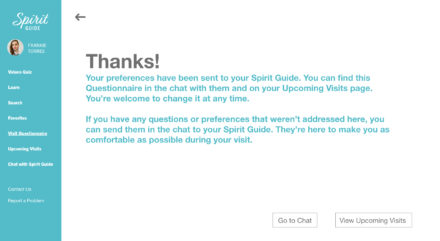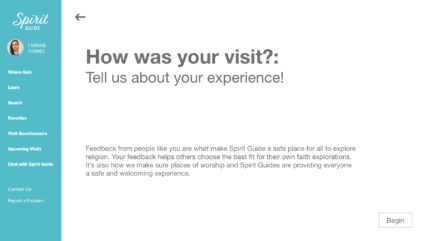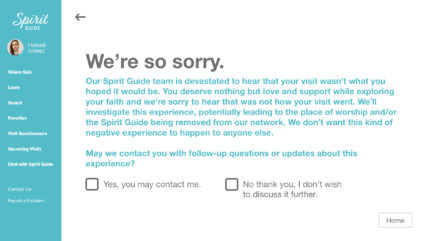 Project Writeup/Video